Buy a 2021 Toyota Camry in Bentonville, Arkansas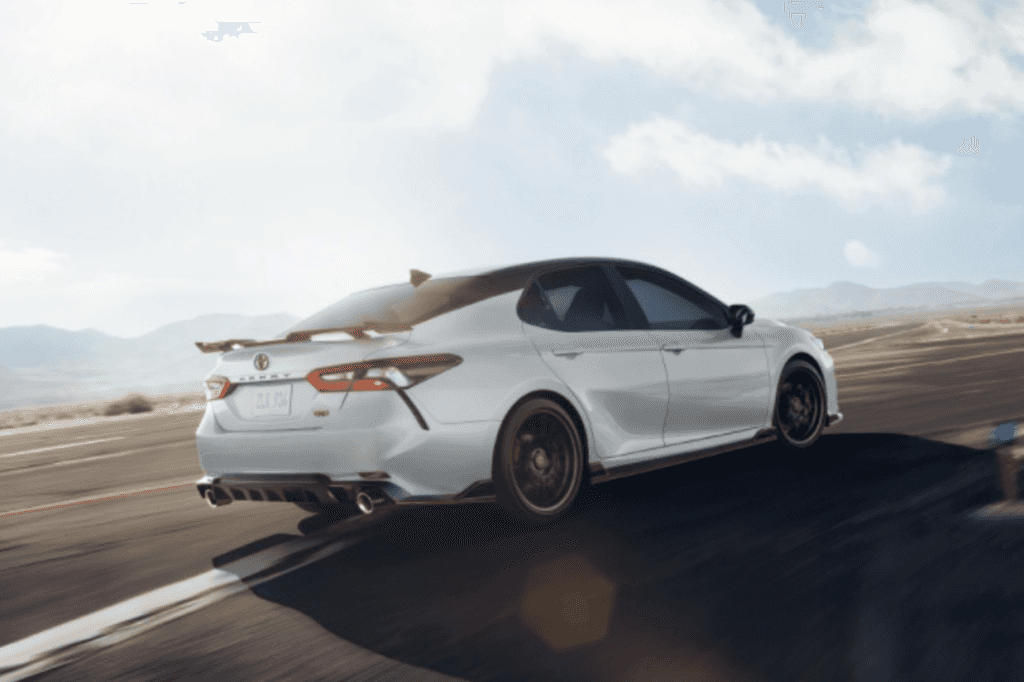 Since its introduction in America, the Toyota Camry's reliability and build-quality has become legendary, with thousands of Camry models still on the road after 200,000, 300,000 and even 400,000 miles on the road. This long heritage as the longest-lasting and most reliable sedan lives on in the all-new 2021 Toyota Camry. Featuring sleek, aggressive and thoroughly modern design plus up to 300 available horsepower, this sure isn't the Toyota Camry your mom used to drive! Thinking you might buy a 2021 Toyota Camry in Rogers, Bentonville, Fayetteville or Springdale, Arkansas? Then why shop anywhere other than your Arkansas Toyota Superstore: Landers Toyota of Northwest Arkansas? Come see us today for a test drive, or check out our entire selection of 2021 Toyota Camry models at our website right now.

CLICK HERE TO SHOP OUR SELECTION OF 2021 TOYOTA CAMRY MODELS

LOOKS THAT THRILL: We're not going to deny that there have been times when the Toyota Camry models of the past were… well… pretty boring. One look at the 2021 Toyota Camry, however, and you'll know that weak-kneed performance and snooze-inducing jellybean shapes are way, way, way in the past. Aggressive and crisp, with street-scene-inspired lines and sharp features, the 2021 Toyota Camry stands head and shoulders above other "sports sedans." Low, low and lean, with a beautifully-arched sportback-style roofline, the 2021 Toyota Camry is ready to leave everything you know about Camry in the dust. For even more athletic style, check out special edition models like the 2021 Camry SE Nightshade Edition, ready to seize the night with blackout trim and unique black-painted alloy wheels.

THE PERFORMANCE TO MOVE YOU: The 2021 Toyota Camry is here to change the way you think about Toyota's mid-size sedan, and that includes the thrills you'll get behind the wheel. The 2021 Camry's standard engine is the rock-reliable and surprisingly powerful 2.5-liter Dynamic Force 4-cylinder, a 16-valve marvel kicking out 202 horsepower and 182 lb.-ft. of torque, for aggressive acceleration with world-class fuel economy. Tack on 100 more ponies with the available 3.5-liter dual-overhead-cam 3.5-liter V6, delivering a searing 301 horsepower and 267 lb.-ft. of torque, for acceleration from zero to 60 in 5.5 seconds. For the ultimate in road-hugging cornering, equip your 2021 Camry with Toyota's available advanced all-wheel drive, for peace-of-mind and better traction in rain, gravel, mud or snow.

EFFICIENCY? THERE'S A CAMRY HYBRID FOR THAT: Toyota is always at the forefront of the search for the big ideas that will power tomorrow, and with the entire auto industry turning away from gasoline and diesel propulsion, Toyota is there too, bringing proven Toyota hybrid technology to the 2021 Toyota Camry Hybrid. Starting at just $27,270 and delivering up to 53 miles-per-gallon fuel economy, the 2021 Camry Hybrid features enhanced hybrid battery technology for even more reliability and performance. How confident is Toyota in their hybrid systems? Enough that the brand just upped the warranty on the Camry Hybrid's battery system to an incredible 10 years or 150,000 miles, whichever comes first. Worried about weak-kneed performance from a hybrid? The 2021 Toyota Camry Hybrid actually delivers a bit more performance than gasoline-powered Camry models: a potent 208 horsepower, while letting you pass up the pump a lot more often.

There's a reason the Toyota Camry is an automotive legend, and the 2021 Toyota Camry is ready to show you why, with the perfect blend of performance, reliability and benchmark Toyota quality. Ready to buy a 2021 Toyota Camry in Fayetteville, Arkansas? Then stop in at Landers Toyota of Northwest Arkansas for a test drive, or check out our full selection of 2021 Camry Models at our website right now.