Buy a 2021 Toyota RAV4 in Rogers, Arkansas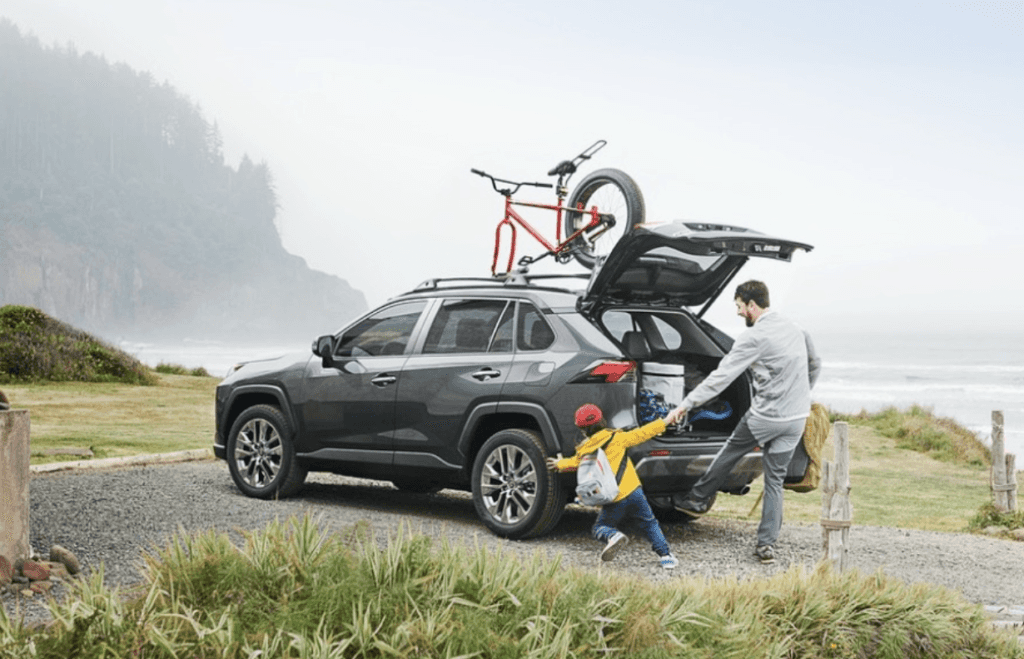 Always stylish, always reliable, always practical. That's Toyota. Few Toyota models reflect that brand-wide commitment to excellence and value better than the 2021 Toyota RAV4. One of Toyota's most popular models, the 2021 Toyota RAV4 rewrites the rules of what a great compact SUV should look like, drive like and be, with a winning blend of style, performance, safety and comfort. Are you ready to buy a 2021 Toyota RAV4 in Rogers, Springdale, Fayetteville or Bentonville, Arkansas? Then come see us today for a test drive at Landers Toyota of Northwest Arkansas, conveniently located close to you in Rogers! Or you can shop our full selection of 2021 Toyota RAV4 models at our website right now.

CLICK HERE TO SHOP OUR SELECTION OF 2021 TOYOTA RAV4 MODELS

LOOKING TO THRILL: No other SUV is like the 2021 Toyota RAV4 because no other SUV LOOKS like the 2021 Toyota RAV4. While other makers are on board to bore you with the same old features and the same old shapes, the 2021 Toyota RAV4 sparkles with the innovative design that has made the Toyota RAV4 the SUV that sets trends instead of follows them. Starting at just $26,050, the 2021 Toyota RAV4 is all about adventure and putting you in the middle of the action, with a shape that's meant to impress, from the burly and aggressive front fascia to the available hands-free liftgate in the back. Featuring crisp and character-driven lines and 11 great trim levels, including the new 2021 Toyota RAV4 Adventure, the 2021 Toyota RAV4 is ready to get you there in style while maximizing the fun.

PERFORMANCE THAT BRINGS THE FUN: Part of the charm of the Toyota RAV4 has long been its high ground-clearance, available all-wheel drive and agile performance, making every drive a potential thrill ride. The 2021 Toyota RAV4 carries on that tradition of giving you more from every drive with the latest in Toyota performance and technology. A legend of Toyota reliability, standard power in every gasoline-fueled 2021 RAV4 is the 2.5-liter four-cylinder, pumping out a thrilling 203 horsepower. Couple that with the 2021 Toyota RAV4's available dynamic vectoring all-wheel drive with switchable driving modes that let you optimize powertrain systems for a variety of challenging conditions at the turn of a dial, and you've got a ticket to the fun zone. Need more good times? The all-new 2021 RAV4 TRD trim, specially tuned by the engineers behind unstoppable off-road Toyota's like the Tacoma and 4Runner TRD Pro, features unique suspension tuning, exterior details, and an underbody skid plate to protect vital components from whatever the trail sends flying your way.  

PICK A PRIME NUMBER: With 11 2021 models featuring hybrid powertrain options, Toyota has long been about creating the vehicles of tomorrow that you can drive today. For 2021, Toyota pushes the envelope even further with the introduction of the all-new 2021 Toyota RAV4 Prime. The first plug-in hybrid version of the legendary Toyota RAV4, the 2021 Toyota RAV4 Prime is also the most powerful RAV4 in Toyota history, packing an impressive 302 horsepower plus standard all-wheel drive. That powerful powertrain — which can be operated either in all-electric mode or unlimited-range hybrid mode — also launches the 2021 RAV4 to the quickest zero-to-60 time in the model's history, all while delivering an incredible 42 miles per gallon fuel economy. Toyota reliability, searing performance and 42 mpg from every gallon of fuel? Now that's Toyota innovation.

Heard enough to know you're ready to buy a 2021 Toyota RAV4 in Northwest Arkansas? Then come see us today at the place that sells more RAV4 models in Northwest Arkansas than anyone else: Landers Toyota of NWA! Stop in for a test drive, or check out our full selection of Toyota RAV4 models at our website right now.