Landers Toyota NWA is 2022 DealerRater Arkansas Dealer of the Year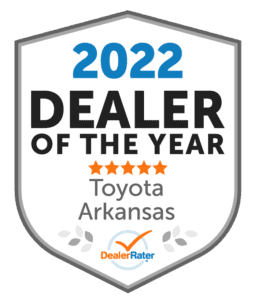 We at Landers Toyota of Northwest, Arkansas have some exciting news! Landers Toyota NWA is the recipient of two DealerRater Awards for 2022: Dealer of the Year and the Consumer Satisfaction Award! 
These two awards add up to a total of nine DealerRater awards since 2015 for us. These achievements are both thanks to our team's exceptional service and our guests taking the time to leave reviews! 
Check out our DealerRater reviews or tell us about your most recent experience with us! 
DealerRater, a website platform specifically for auto dealership reviews, launched 20 years ago in 2002. The Dealer of the Year Award program followed seven years later with the first awards being presented for the 2009 year. The Dealer of the Year Award is based on the criteria of the previous calendar year. The basic qualifications include having at least 25 reviews (one of which must be positive), an average rating greater than 4.0 out of 5.0, and having not been blacklisted. At somewhere just over 1,000 reviews in 2021, these were easily obtainable goals in our book. Qualifications to be nominated – check! 
To win the award, each dealership is ranked by a score that's calculated using an algorithm. The score is based on the number of reviews and the average star ratings the dealership received.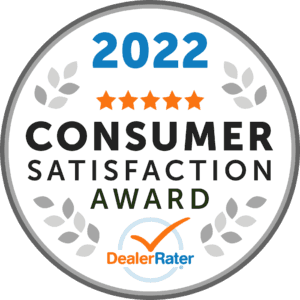 We also won the Consumer Satisfaction Award, which was put into place in 2015. The qualifications are the same as the Dealer of the Year Award The Customer Satisfaction Award can be won by the top 10% of new-vehicle dealerships and top used-vehicle dealerships based on their scores across the U.S., while the Dealer of the Year Award works on a national, regional and state level. 
We at Landers Toyota NWA pride ourselves on providing great customer service, whether our guests are looking for a new car or stopping by our shop for routine car maintenance. Thank you to everyone who has stopped by to work with us this year. And an extra special thank you to those who took the time to leave positive reviews for us on DealerRater. We appreciate doing business with you!