Four of our favorite features of the 2021 Toyota Sienna!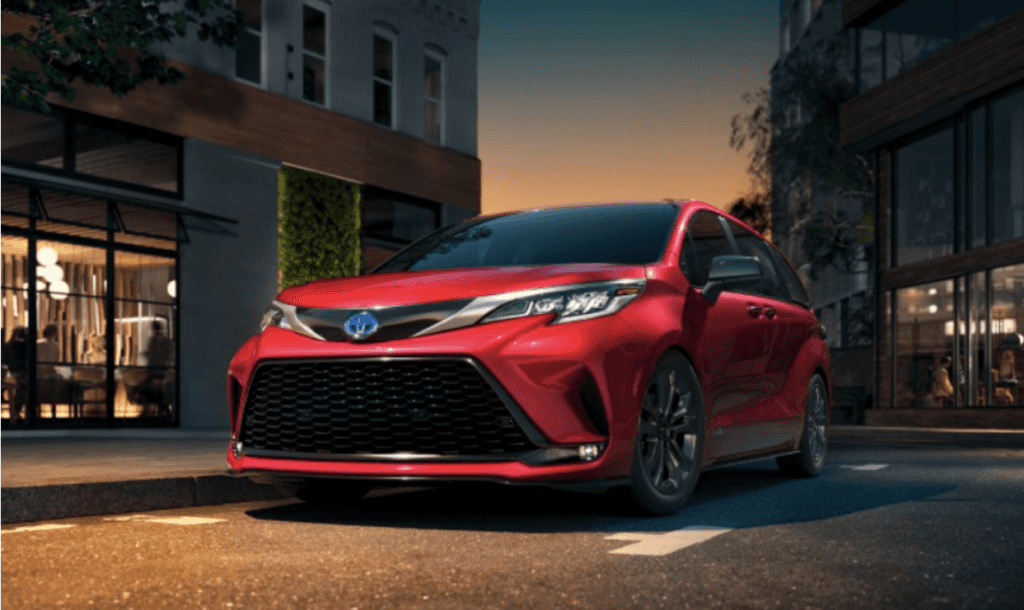 The Toyota Sienna is back for 2021 and better than ever with a totally redesigned look that bridges the gap between the cargo space and easy loading of a great minivan, and the capability, driving position and easy handling of a great mid-size SUV. Inspired by Japan's legendary Shinkansen bullet train, the styling of the 2021 Toyota Sienna is all about the look of tomorrow that you can drive right now.

We recently got our first 2021 Sienna models on the lot here at Steve Landers Toyota of Northwest Arkansas, and every time we look at one or open the door, we find something new to love. Seen below, check out four of our favorite things about the all-new 2021 Toyota Sienna van, the reliable, affordable, feature-packed van your family has been waiting for. And when you're ready, stop in for a test drive, or check out our full selection of 2021 Sienna models at our website right now.

CAPTAIN ON THE BRIDGE: Making the most out of a small family van depends so much on the basic layout, storage and ease-of-use. Toyota always goes the extra mile when it comes to smart design and storage, and that goes doubly true for the 2021 Sienna. Case in point: the groundbreaking Bridge Console. An triumph of great, user-friendly design, the bridge console features both compartments for easy storage and space underneath the console to stow even more items, plus a cordless charging pad that makes juicing up your phone as easy as laying it in a tray. In a family van, the Bridge Console is a clutter-busting marvel.  
ADVENTURE READY: Sometimes, family adventure means bringing along the toys, from ATVs and dirtbikes to a small watercraft or compact camper. In addition to seating for up to eight, the 2021 Toyota Sienna lets you bring along the fun stuff for the ride, thanks to a maximum towing capacity of a substantial 3,500 pounds. When you get there, the 2021 Sienna helps get the good times rolling with features like an available on-board, 1,500-watt power inverter and 120-volt AC outlet that can be used to power air compressors, small appliances or — if you really want to party — lights and a karaoke machine, even if you're miles from the nearest wall plug.

ACTUALLY, IT IS EASY BEING GREEN: One exterior color option that's available on the 2021 Toyota Sienna is dark, rich Cypress Green, which is a perfect complement to the 2021 Sienna's green and sustainable all-hybrid powertrain and fuel-sipping, environmentally-friendly ways. Don't take our word for it, though. The critics have been very impressed with the efficiency of the 2021 Sienna too, with the influential Green Car Awards naming the 2021 Toyota Sienna their 2021 Family Green Car of the Year! Long story short: whether you opt for Cypress or not, every 2021 Sienna is green in all the best and most sustainable ways.

COOL AND THE GANG: Minivans have long been legendary people-movers, and the 2021 Toyota Sienna goes even further thanks to the available split-and-stow third-row center seat, which can be effortlessly stowed in seconds to make room for up to 75 cubic feet of storage. Prefer the ultimate in passenger comfort? Then check out the XLE, XSE and Platinum trims, with available captain's chairs with ultra-long slides and a pop-out ottoman to help your passengers sit back and relax while the miles roll away.  
It's hard narrowing down our favorite features of the 2021 Toyota Sienna, and we're sure many of our customers will have a few of their own soon. Ready to buy a 2021 Toyota Sienna in Bentonville, Rogers or Fayetteville? Then come see us today at Landers Toyota of Northwest Arkansas for a test drive, or check out our full selection of 2021 Toyota Sienna models at our website right now.