Which Toyota Hybrid Crossover is Right for Me?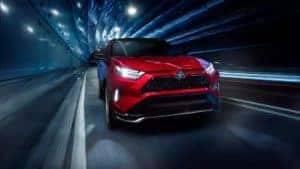 Looking for the right car to fit your needs and your budget can be stressful. We at Landers Toyota of Northwest Arkansas want to help make your car-buying experience as stress-free as possible. Let's talk about your choices. 
Which Toyota Hybrid should I buy? 
Since you've clicked on this quiz and not our other links above, we'll assume you've narrowed your choices down to a hybrid crossover. An excellent decision for those looking to make the switch to electric cars with great visibility and cabin room. While it may seem like hybrids are all cut from the same cloth, each of Toyota's hybrid crossovers has distinct characteristics that set them apart. Toyota has three hybrid crossovers, the 2022 Venza, RAV4 Prime, and RAV4 Hybrid. We put together a little quiz to help you decide which hybrid crossover is right for you! 
1. What are you looking for the most in a vehicle? 
I want a hybrid that is as fuel-efficient as possible.

I'm looking for style and a distinctive design. 

It needs to be budget-friendly, but not boring. 
2. Do you need all the new technological components in your vehicle? 
I like having all available features equipped for my ride. 

I like having options. 

I need the basic features, but too many may overwhelm me. 
3. Are you looking for all-wheel drive? 
Yes. It's one of the first things I consider when looking for a vehicle. 

I have no use for it. 

Possibly. It would be useful, but not necessary. 
4. Driving is… 
An adventure.

Quality time for myself or with my passengers.

A way to get to a destination.
5. Which Spotify playlist would you listen to? 
6. How much cargo space will you need? 
Help! My hands are full, and I need more space! 

The more people I can take on my adventure, the better. 

I will not drive anything that feels too big. 
If you choose mostly A, then you should check out the 2022 Venza! 
The Venza itself is an impressive, powerful hybrid vehicle. With seating for up to five and a refined interior, we could write pages about its cabin alone, let alone the exterior design. We'll keep this teaser short, though. The 2022 Venza has a combined 39 miles per gallon and 219 combined horsepower, standard electronic all-wheel drive, a hands-free power liftgate option, and is designed for a quieter drive. The inside has an available 12.3-inch touchscreen and seven-inch multi-information display, panoramic roof, four USB ports, and four driving modes: EV, Eco, Sport, and Normal. The 2022 Venza starts out at $32,890. 
If you choose mostly B, then you should look into getting a 2022 RAV4 Prime! 
The RAV4 Prime is the perfect hybrid blend of style and comfort. Whether you need to take the family to the dentist or friends to the grocery store, the Prime has a refined interior and exterior. With ambient lighting and a panoramic glass roof, the cabin environment will be peaceful. With 302 combined hp, standard AWD option, around 42 miles of electric-only range, and just an all-around smooth driving experience, the RAV4 Prime has what you need in a hybrid crossover. The 2022 RAV4 Prime starts at $39,800. 
If you choose mostly C, then the 2022 RAV4 Hybrid is right for you! 
Out of the three crossovers, the 2022 RAV4 Hybrid is the cheapest. Starting at $29,075, the RAV4 Hybrid is designed to be what you need in a hybrid crossover without any needless flair. With 41 highway and 38 city mpg, it was designed to be one of the quickest and most powerful RAV4s yet. The plug-in hybrid comes with electronic, on-demand AWD. The 2022 RAV4 Hybrid has an abundance of cargo space available, five USB ports, an available digital rearview mirror, a nine-inch touchscreen, and a panoramic glass roof.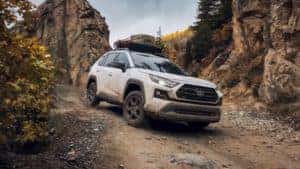 Which Toyota Hybrid Crossover did you get?? Tell us in the comments! 
None of these standing out to you? See what we have on the lot!