Toyota and the Winter Olympics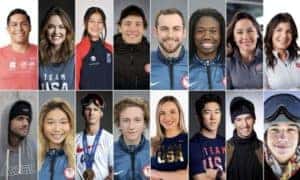 The Winter Olympics are just around the corner! From the Opening Ceremony on Friday, February 4 to the closing on Saturday, February 20, we at Landers Toyota of Northwest Arkansas will be cheering on Team USA! The 2022 games will be held in Beijing, China, a whole 14 hours ahead of us in Rogers, Arkansas. Read further to find out what to expect from the Winter Olympics and to see just who Toyota will be keeping a close eye on these games! 
The Winter Olympics are held every four years, typically falling squarely in between the Summer Olympic Games. Due to the ongoing pandemic, the 2020 Summer Olympics were held only six months ago in Japan. The Paralympic Games came to a close only in September 2021. The short time frame between the summer games and the winter hasn't seemed to curb any of the excitement in seeing the States' top athletes compete for the gold this year. And just as Toyota supported Olympians in the Summer and Paralympian Games, Toyota has a list of returning Olympic and Paralympic athletes it's proud to support. Here's a list of gold enthusiasts to watch closely. 
The Cross-Country Skiing group will have categories such as 10 kilometers Classic and 30km Mass Start Free for both women and men. 
From Rhythm Dance to Free Skating, here are those competing in the figure skating category. 
Long Track Speedskating takes in the athletes' speed as they cross distances such as 500 to 5,000 meters. 
Luge is a sport where one or two people steer their sleds mainly with their shoulders and legs, parallel to the floor. 
Nordic Skiing is a specific branch of skiing that allows the heel to rise from the ski itself, among other features. 
The 2022 Paralympic Winter Games will take place from Friday, March 4 to Sunday, March 13. With Team USA, Toyota has decided to support three Para Alpine Skiing athletes. 
Andrew Kurka

Alana Nichols

Danelle Umstead
Sled Hockey is another Paralympic Game event, one that differs only slightly from hockey, but with sleds. The players have one "sledge" they balance on instead of two skates. 
The category with the most contenders vying for the gold on Team USA is snowboarding. 
Red Gerard

Chloe Kim

Toby Miller 

Amy Purdy

Evan Strong

Louie Vito
Toyota = Movement. Find your Toyota on our lot.
We hope each Team Toyota Team USA athlete performs to the best of their abilities. Bring home the gold! 
Which winter sport are you most interested in watching? Let us know in the comments!