Toyota GR86 FasterClass Explanation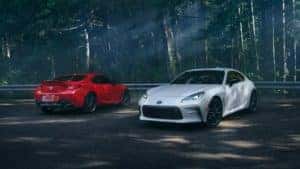 Toyota held a GR86 FasterClass at the end of 2021. This course was made up of four classes, five professors, and a ton of showing off the 2022 Toyota GR86's driving capabilities. We at Landers Toyota of Northwest Arkansas wanted to give you a glimpse of the outstanding GR86 and handling demonstrated. 
The 2022 Toyota GR 86 is one of Toyota's two sports cars. The GR 86 was created for performance, all the way down to its basic body structure. Its underbody is lower and the cabin is more narrow when compared to other Toyotas. Front fender air vents provide better stability, and track-tuned suspension keeps the tires grounded. 
Read more on the 2022 Toyota GR86. 
Meet your professors: Stephan Papadakis, Fredric Aasbø, Hunter Taylor, Ryan Tuerck, and Ken Gushi. They are professional drivers, each with their own history of driving impressive cars and racing. Their backgrounds are in competitive drifting, racing, and they have connections to the championship series Formula Drift.   
Class One: Escape Work | GR86 Handling
Gushi showcases the GR86's handling capabilities. While leaving a twisting car park ramp, Gushi puts the GR86's sport-tuned suspension to the test. The beautiful sound of the GR86 revving up and the control Gushi keeps with each turn is impressive. 
Class Two: Claim Your Spot | GR86 Performance
The second class is an example of the GR86's performance. Tuerck and Gushi are vying for the same parking spot, in a vehicular game of Ring Around the Rosie. The short standoff is a glimpse into what happens when the GR86's six-speed, manual or automatic, transmission and the Vehicle Stability Control Full-Off Mode work together. 
Class Three: Dance in the Rain | GR86 Performance
Aasbø and Taylor take the lead in the third class. In a fast-speed, quick-tempo swing, the two drivers show off the track-tuned performance and impressive handling skills without missing a beat. 
Class Four: Faster Food | GR86 with G-Force Monitor
In the quickest fast food line and delivery we've ever seen, Aasbø swings up to the window with the help of the advanced technology within the GR86. 
(We just hope this isn't how GrubHub or UberEats plans on picking up any food order.) 
We at Landers Toyota NWA are amazed at each drivers' skills and with how cool the 2022 Toyota GR86 rides in each video. Which class was your favorite? Let us know in the comments!