What is ToyotaCare?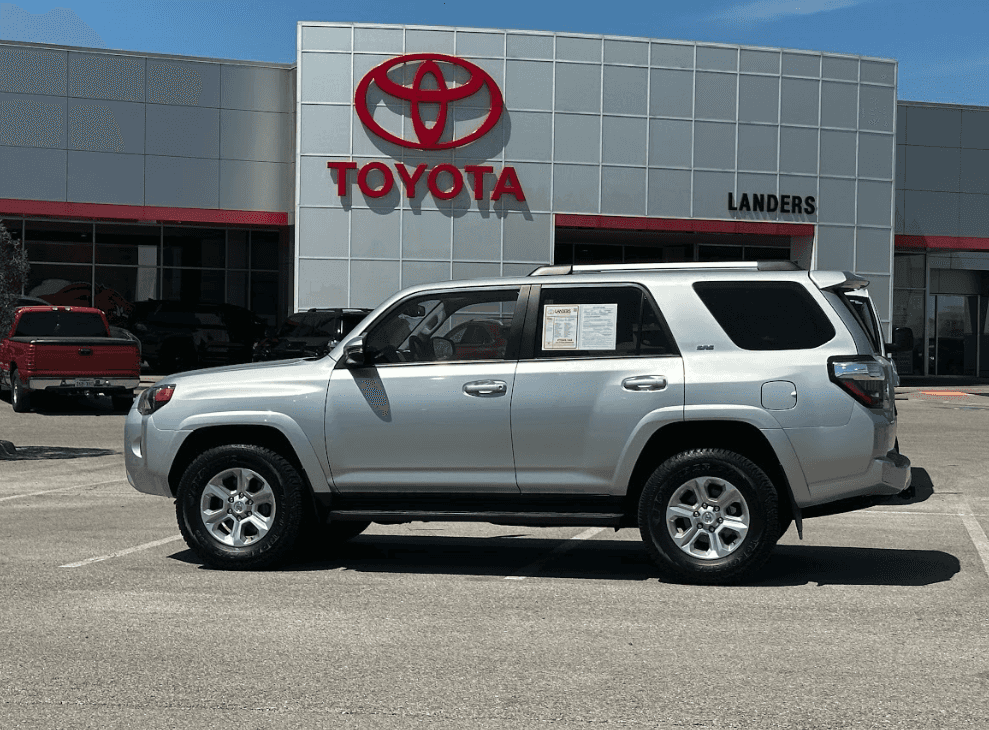 You just drove your new Toyota off the lot. New car smell blowing through the air as you check out all the new features you can use through Toyota Connected Services. You use your backup camera to guide your new ride into the garage. Now it's time to program that 8-inch touchscreen with Apple CarPlay and set up your SiriusXM trial. There's nothing better than the feeling of purchasing a new Toyota car, truck, SUV or van, especially if you buy it from us at Landers Toyota NWA in Rogers, Arkansas!
Now that you've gotten it home and learned all about the new features, it's time to drive your new Toyota 4Runner, RAV4 or Tundra around town and show it off to your friends and family. As you're fielding questions about that leather interior, the name of the paint color and how many mpg does it get, someone asks if you got a maintenance plan. "Well funny, you should ask…"
You then proceed to tell them all about ToyotaCare, a no-cost maintenance plan that covers routine factory-scheduled maintenance with the purchase or lease of every new Toyota. That sounds too good to be true, right? Well, let's take a further look at everything ToyotaCare covers and exactly what it does for you once you become a member of the Toyota driving family.
Standard on all new vehicles, ToyotaCare covers two years or 25,000 miles, whichever comes first. So what does all this mean? Once your purchase is complete, ToyotaCare provides the following maintenance services: engine oil and filter change, tire rotation, multi-point inspection and inspection and adjustment of fluid levels. Our Toyota-trained technicians will use genuine Toyota parts to complete factory-recommended maintenance at no additional cost.
As part of ToyotaCare's service, we will send reminders before your scheduled maintenance and keep a complete history of your service visits on file. We recommend service at six months or every 5,000 miles. So depending on your mileage, plan out your service appointments to take full advantage of your complimentary two years of coverage with ToyotaCare.
After you've finished explaining ToyotaCare to your friends, someone asks another question. "What about roadside assistance?" Another good question to ask because we have an even greater answer. Yes, roadside assistance is provided as a part of ToyotaCare. It's a 24-hour service available for the duration of your two years, no matter your mileage. Roadside assistance covers the following: battery jump-start, lockout protection, emergency fuel delivery, tire service, towing and winching. 
Another question from your friend. "What happens after your two years are up?" Don't worry because Toyota's got your back. You can decide to continue your coverage and purchase ToyotaCare Plus Service Drive, which offers extended protection for your Toyota for up to four years or 45,000 miles from the date of the first use, or whichever comes first. Some other requirements include that your Toyota must have 31,000 miles or less, be within 37 months of the date of first use, and have been eligible for ToyotaCare to qualify for ToyotaCare Plus Service Drive.   
Now you've got everyone interested in buying a new Toyota. They weren't expecting all these amazing benefits that come with ToyotaCare. But then there's one last question. "What about my used Toyota? Does that qualify me for anything since I didn't buy it new?" 
Toyota takes care of used vehicles as well, regardless of age or mileage. If you bought a used Toyota, you can purchase Toyota Service Care, a pre-paid maintenance plan that lasts for two years and can be renewed as long as you need it. It offers the same Toyota Roadside Assistance and maintenance services provided by ToyotaCare. 
The next time you take that drive from Fayetteville to Bentonville or further to Gravette or Tontitown, you'll drive easy knowing that your new Toyota is cared for for the first two years you own it. ToyotaCare will keep you road-ready to travel all over Northwest Arkansas. If you have more questions, stop by and see us at Landers Toyota NWA in Rogers. 
Learn More About ToyotaCare or Schedule Your Service Appointment